Top 2 Bottom Helps Crawl Space Ninja Franchisee Expand to South Carolina
Several months back we received a notification that someone had left a review on the Google My Business page for our Wilmington office. While we've moved to a bigger office in Wilmington, NC since that review was left, we wanted to share it here. Here's that review from the local Crawl Space Ninja franchisee, Schuyler Witt: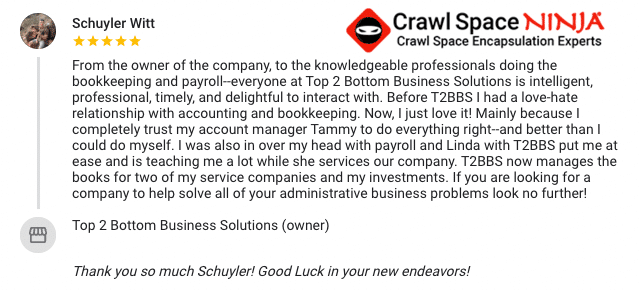 When we reached out to Schuyler to get his permission to share this Google review publicly, he invited us to stop by the Crawl Space Ninja offices in Wilmington to shoot a quick video. With Top 2 Bottom accounting services growing in popularity with both franchisors and franchisees, we stopped by earlier this week to say "Hello"! Not only did Schuyler introduce us to his team, he mentioned how T2B was instrumental in helping his team prepare for expansion into Charleston, SC in 2022!

Here's what Schuyler Witt shared with us this past Tuesday:
We must thank Schuyler and his entire Crawl Space Ninja team for such kind words. We wish them a very happy holiday season and we'll be by their side as they expand into South Carolina in the New Year. Stay tuned for more testimonial videos like these from happy T2B clients across the country!

Visit one of our three offices or contact us today to if you are preparing for new business opportunities in 2022!