Top 2 Bottom Launches New LinkedIn Group
This week your hardworking team at Top 2 Bottom Business Solutions launched a new support group on LinkedIn called Franchise Accounting Strategies. LinkedIn Groups provide an online place for executives and professionals within a given industry to share insights, experiences and questions. Groups are popular within LinkedIn because it gives group members with common interest the ability to collaborate with others they might not be directly connected with on LinkedIn.
Over the past 12-18 months, the Top 2 Bottom team has been increasingly adding more franchisor and franchisee clients who demand professional accounting services. One of the major challenges for those in the franchise industry is getting consistent financial reporting across their entire organization. We posted this franchisor interview about accounting consistency challenges just last month.

Top 2 Bottom CEO, Christopher Mallery, posted a Welcome message to the new LinkedIn Group yesterday. Here's a partial quote from his group welcome: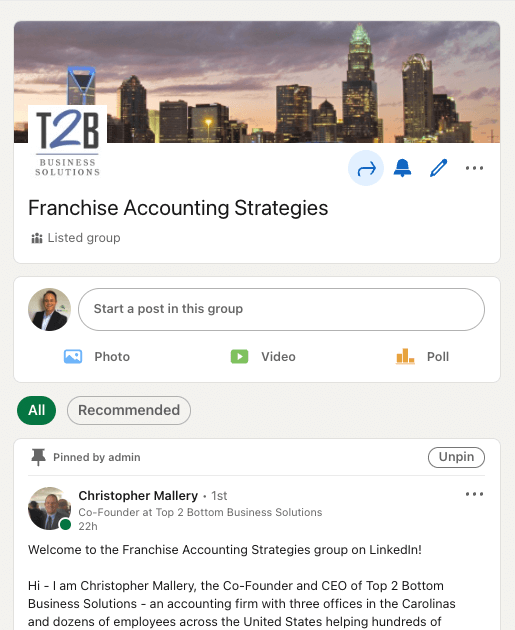 "Over the past year we've dramatically increased our clientele to include both franchisees and franchisors. One thing we've learned quickly is that the franchise industry requires a bit more expertise versus traditional businesses. While we certainly don't have all the answers, we created this Group to help everyone in this industry realize the many benefits of consistent financial reporting methods across an entire franchise organization."

"We truly look forward to sharing lots of useful information and exclusive resources and answering the tough questions about proper franchise accounting procedures. If you ever have any questions that you don't want to post publicly within this group, just reach out to me directly and I'll be happy to assist."

If you are actively involved as either a franchisee or a franchisor and would like to join this free group, please visit the new "Franchise Accounting Strategies" Group on LinkedIn today!