The Franchise Industry Beyond Restaurants
If we took a street survey, and asked random adults to name a franchise off the top of their heads, odds are great that 90% will throw our a nationally known restaurants. The top of list is likely to be populated with Quick Service Restaurants (QSRs)  like McDonald's, Subway, Pizza Hut, Dunkin', Starbucks, Taco Bell and others.  And these internationally known franchise brands, with thousands of successful units and massive marketing budgets certainly deserve the top of mind attention that the general public has.
But what brands would you consider when you are thinking about investing in a new franchise business?
For people who might lack experience within the hospitality industry, investing in a restaurant, even one with a highly proven history of success, could be intimidating. Since 2020, the restaurant industry as a whole has been plagued with horror stories about supply chain failures and serious staffing challenges. Even today, as we pass the half way point of 2023, franchise restaurants continue to close due to these on-going business realities.
For those of you considering new business possibilities, and franchises outside of the restaurant realm, we want to point you towards an important study that was featured in an article from 1851 Franchise this week titled: What Are the Most Common Franchised Industries? 
While the referenced study from the Census Bureau might be a bit long in the tooth, six years later, it's likely the percentages by industry haven't changed too much, even if the overall counts have. Once we get past the overwhelming franchise unit counts from both full service and limited service restaurants, along with the massive financial investments required for Hotels & Motels and new car dealerships, we finally get to those the other industry sectors within franchise industry: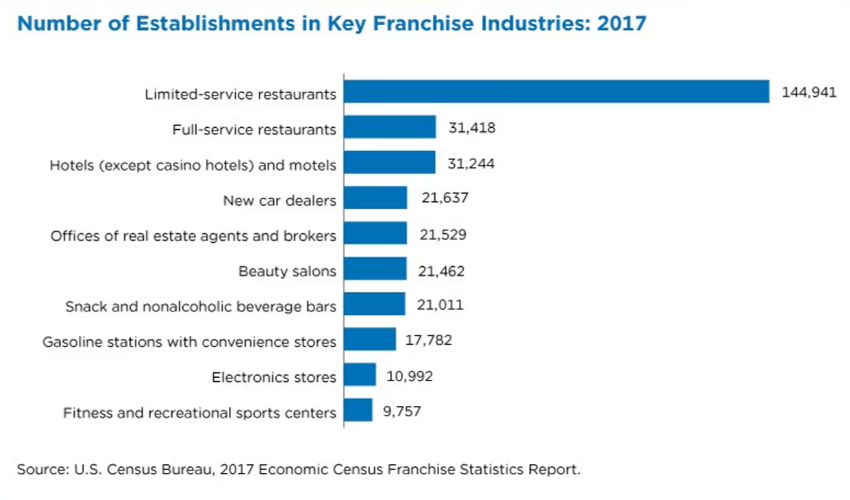 Now, the million dollar question is, which of these industries does your local market actually need? Further, one key industry that is likely to have seen a massive uptick in growth since 2020, and is not shown on the 2017 graphic above, is the Home Services industry. This particular industry category has several positive attributes by those considering business investment: Most home service franchise businesses have fairly low overhead. In many cases, these opportunities can be operated from a truck, a home office or even a co-work space. Also, home service businesses are fairly recession proof, but obviously the franchise category does cover a wide range of services.
Regardless of which new franchise business you might be considering, be sure to add a financial partner to your new business team. Since Top 2 Bottom has many franchisors and franchisees as clients, across a variety of industries (including restaurants), the sooner you engage our accounting team, the better your reporting and returns will be. Believe it or not, even the process of finding your ideal franchise will come with significant expenses that need to be included within your bookkeeping!
Call Top 2 Bottom today to learn more: 704-895-6030